JQA Quality Accreditation Services
JQA Quality Accreditation Limited is an Independent, Accreditation Body and non-profitable board responsible for providing accreditation for Certification bodies/ Agencies in the fields of Management system certifications, Training Organizations. JQA Accreditation demonstrates the impartiality, competence and independence of these organizations. JQA does not perform certification.
ACCREDITED STANDARDS

ISO 17021 MANAGEMENT SYSTEM
Quality Management Systems ISO 9001,
Environmental Management Systems ISO 14001,
Occupational Health & Safety Management Systems OHSAS 18001,Medical Devices — Quality Management Systems — ISO 13485​ Standards
EN ISO / IEC 17025 TESTING AND CALIBRATION BODIES


JQA offers ISO/IEC 17025 accreditation to organizations performing various types of testing and calibration. The list below encompasses JQA established ISO/IEC 17025 accreditation programs.



There are two main sections in ISO/IEC 17025 – Management Requirements and Technical Requirements. Management requirements are primarily related to the operation and effectiveness of the quality management system within the laboratory. Technical requirements address the competence of staff, methodology, test/calibration equipment and the test methods.

Acoustics and Vibration,Biological,Calibration,Chemical,Construction Materials,Electrical
Environmental,Forensic Examination,Geotechnical Information Technology,Mechanical
Nondestructive,Sustainable Energy Testing Thermal
EN ISO IEC 17065 CONFORMITY ASSESSMENT. REQUIREMENTS FOR BODIES CERTIFYING PRODUCTS, PROCESSES AND SERVICES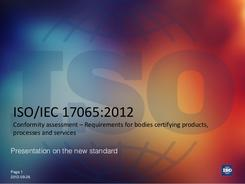 Product certification has become an important tool for businesses to show that they meet requirements, and to increase market penetration.Through third-party activities, it is also
used to increase consumer confidence.Regulators use product certification
extensively to verify minimum safety,energy, electrical compatibility, and other
technical regulations.Manufacturers can also use product certifications as part of their criteria when choosing suppliers. Retailers, as well, have more confidence selling products that are certified.

Product certification confirms that a product, process or service has been inspected, tested and approved. But for this to be true, the relevant certification body must operate consistently in an impartial and competent way. A product certification performed by one certification body, should be equivalent to that done by another when the same product standard is used.

Product certification is probably the most visible type, as many certification bodies allow complying products to carry their mark of conformity. Consumers, regulators and other stakeholders then know that a product has been independently tested and meets the specified requirements.

It is, therefore, vital that product certification bodies operate in accordance with ISO/IEC 17065. This allows them to demonstrate that they are competent, impartial and reliable.The International Accreditation Forum, which is responsible for the mutual recognition of accredited product certification bodies, has agreed on a three-year transition period for certification bodies to demonstrate conformity with the new ISO/IEC 17065. All accredited certification bodies will have to comply with this standard.
What is accreditation?

Reliability through conformity assessments

Requirements regarding the quality of goods and services are continuously increasing as a result of the liberalisation of global trade and increasing demands by consumers, companies and legislators. Whether for environmental protection, in the food or electrical industry, health care or renewable energy - for these and many other industries, objective testing, calibrations, inspections or certifications therefore play a very important role.
How can accreditation help small businesses?

If your business requires the services of certification bodies, testing or calibration laboratories, or inspection bodies, using a JQA-accredited supplier for these evaluation services (also known as conformity assessment services) is an essential tool for decision-making and risk management.